Rihanna is being hailed as a "goddess" after her halftime show at the Super Bowl and honestly, it's hard to disagree because her performance was flawless.
The 34-year-old took center stage in the halftime show for the Super Bowl where fans immediately began speculating whether the singer was pregnant.
The star wore a PVC bustier and bright red jumpsuit unzipped to below her navel as she descended from the sky as a series of platforms took her and her dancers high above the crowd.
Her singing was flawless as she treated fans to a medley of her greatest hits including 'Work', 'Rude Boy', and 'Diamonds'. Her dancing appeared slightly subdued, and it was confirmed after her performance that Rihanna is indeed pregnant.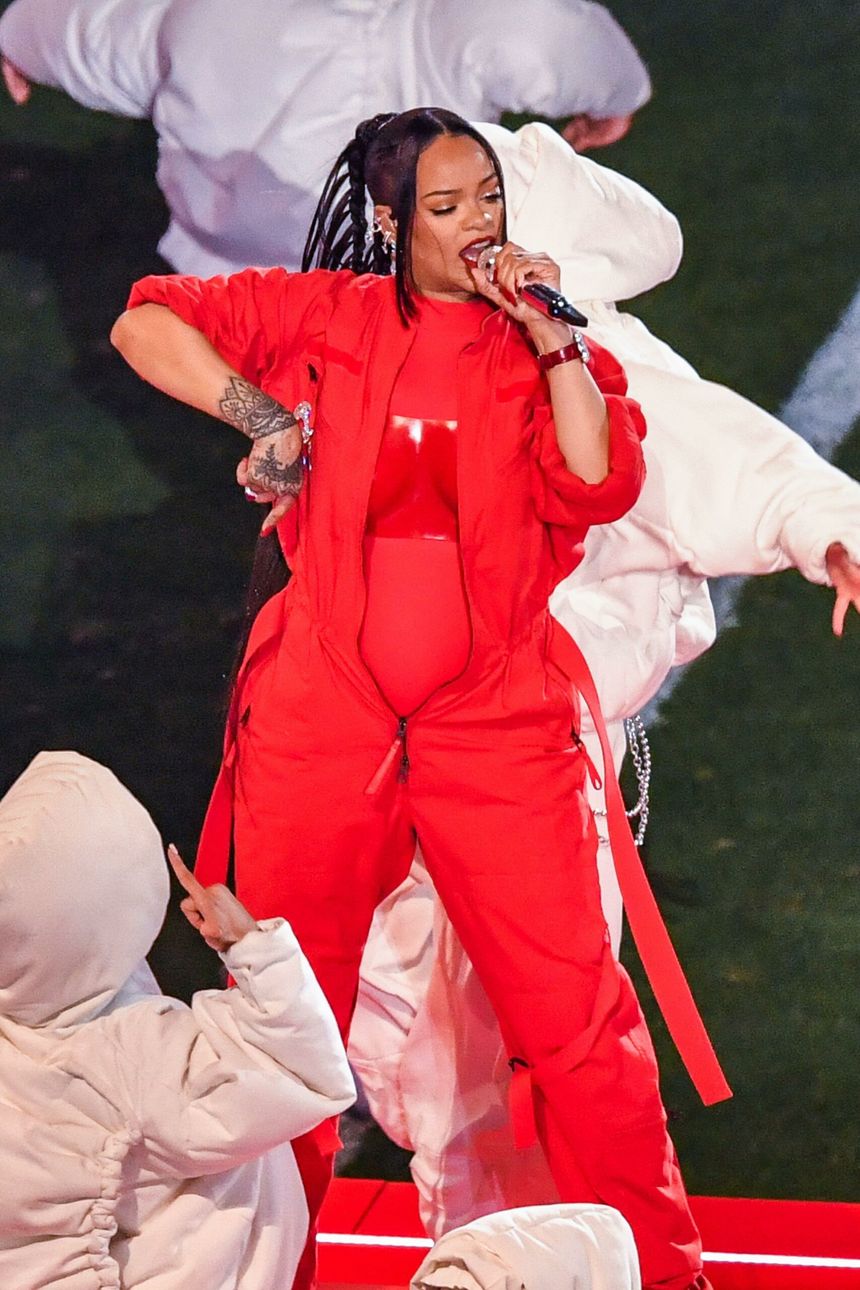 The star welcomed her first child in May 2022 with fellow musician A$AP Rocky, and the rapper watched on at the State Farm Stadium in Glendale, Arizona, as Rihanna wowed the masses.
It wasn't an easy road to the Super Bowl, despite her 13-minute performance appearing effortless. Prior to performing, Rihanna told The Hollywood Reporter that she wasn't sure that she was ready for such a big occasion after giving birth.
"I was like, 'You sure? I'm three months postpartum. Should I be making major decisions like this right now? I might regret this," she said. "When you become a mom, there's something that just happens where you feel like you could take on the world – you can do anything."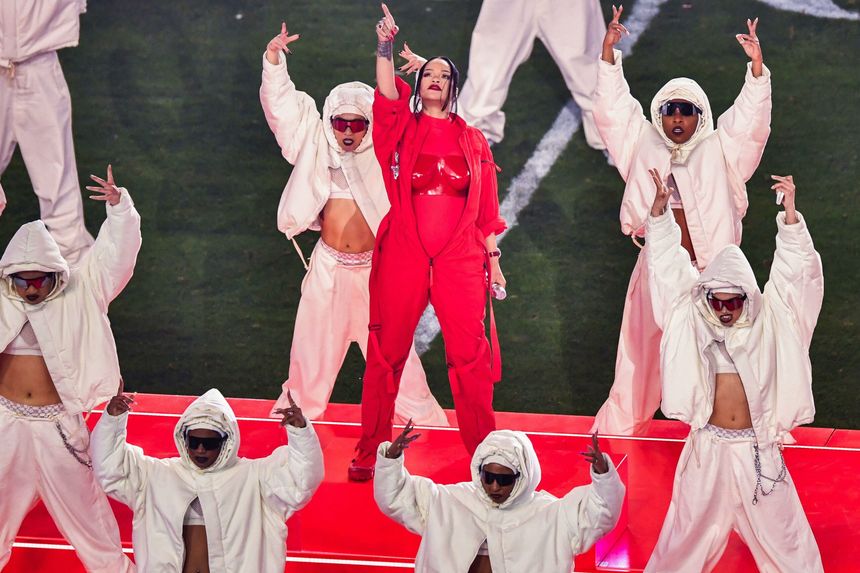 Rihanna concluded: "The Super Bowl is one of the biggest stages in the world, so as scary as that was … there's something exhilarating about the challenge of it all. It's important for my son to see that."
Thankfully, the new mother accepted the opportunity to perform and she really hit every mark, and people on social media were full of praise for the 34-year-old.
"The outfit, her second pregnancy, the Queen is back, she [is the] goddess of everything, Rihanna is stunning," one person said, with a second adding: "I don't think Rihanna understands the level of excitement she brought to everyone that loves her and her music. She sang classics that made us go way back. Danced and sang while pregnant. Epic!"
THE OUTFIT, HER SECOND PREGNANCY, THE QUEEN IS BACK, SHE GODDESS OF EVERYTHING RIHANNA IS STUNNING #Riri #Rihanna #SuperBowl pic.twitter.com/C0xfvnHYyc

— ᴴ (@hiddlouistan) February 13, 2023
I don't think @rihanna understand the level of excitement she brought to everyone that loves her and her music. She sang classics that made us go way back. ❤️ Danced and sang while pregnant. Epic! #FentyBowl #RihannaSuperBowl #Rihanna pic.twitter.com/ic4piMumkp

— Maybe Later (@MaybeLa78670644) February 13, 2023
The Kansas City Chiefs ended up winning the Super Bowl in what was a thrilling encounter, but Rihanna and her baby bump may have potentially stolen the show…