Cara Delevingne has proved she is Rihanna's number one fan after rocking an epic T-shirt dedicated to the star during her Super Bowl Halftime Show.
Rihanna made headlines around the world after taking the stage for this year's Halftime Show – though reviews from fans were a mixed bag.
Some hailed the 34-year-old singer as a "goddess" after her 12-minute set, while others accused her of lip-syncing her song medley.
RiRi also used the enormous platform (literally – she was suspended on a glass platform high above the field) to announce she is pregnant with her second baby with boyfriend A$AP Rocky too.
Now, fans of Rihanna and Cara, 30, will know the pair have been friends for years – so it's no surprise the model was in the stadium to cheer on her pal.
Cara spoke for the non-sports fans in the audience as she declared she was supporting "#teamrihanna" rather than the Kansas City Chiefs or the Philadelphia Eagles as Super Bowl LVII got underway.
And of course, she came dressed for the occasion too, as she rocked a T-shirt dedicated to the 'Diamonds' star as she sat in the crowd.
Cara shared a photo of herself in the white tee, which read: "Rihanna concert interrupted by a football game, weird but whatever."
While that is epic enough on its own, the next photo in the carousel showed Cara with the shirt pulled over her head to reveal there was a portrait of Rihanna wearing a football helmet on the inside, making it look like Rih's head was on Cara's body.
Where do we buy ourselves one of those?!
(Well, actually – they're available from Rih's Savage X Fenty lingerie line for $59.95, if you were wondering.)
Cara wasn't the only star who snapped up the coveted shirt (or likely was sent it from Rihanna herself), as actress Kerry Washington also shared a snap of herself in the same look.
Fans had been waiting months for Rihanna to take the stage, and the singer opened up about the importance of her taking on the gig.
She explained during an interview at Apple Music's Super Bowl press conference: "To go on the biggest stage in seven years, there's something thrilling about the challenge of it all.
"It's important for the representation and it's important for my son to see that. That's a big part of why I want to do this show, representing for my country, representing for immigrants, representing for black people. That's a big part of why I wanted to do it."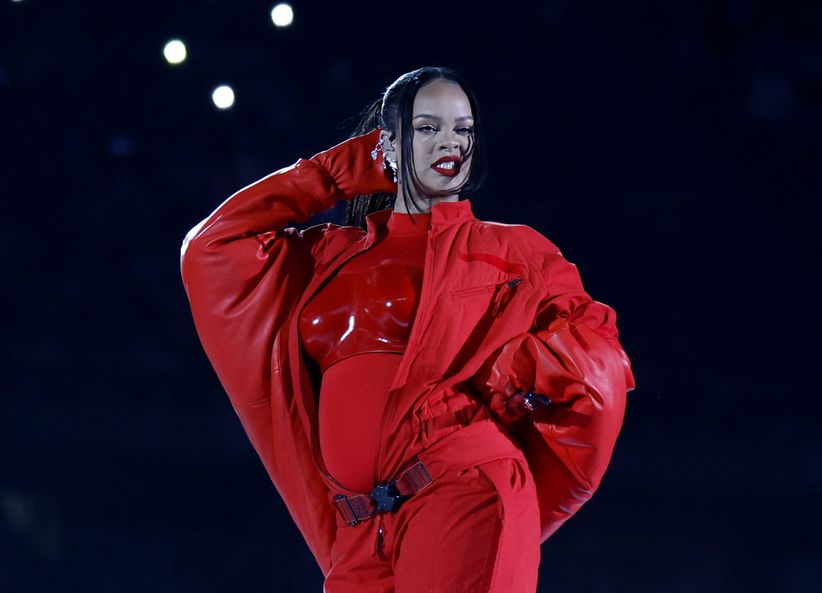 Rihanna announced her second pregnancy by debuting her bump on the stage. Credit: UPI / Alamy
Rihanna welcomed her first child, a son, in May last year with A$AP Rocky and the little one is now almost nine months old.
Soon to be a mother-of-two, Rihanna admitted that the choice of what to take on professionally has largely been influenced by the impact it would have on the time she has with her child.
She explained: "The balance is almost impossible, because no matter how you look at it, work is always something that's going to rob you of time with your child.
"That's the currency now, and that's where it goes, the magnitude of how much it weighs."